Start
September 22, 2021 - 11:30 am
End
September 22, 2021 - 2:30 pm
Address
Hartford Golf Club, Burrows Hill, Hartford Northwich CW8 3AP
View map
Women in Business Wellbeing Conference Sue, Tricia and Kirsty are once again collaborating as KTS to unite their Women in Business networks
About this event
KTS Women in Business Wellbeing Conference 2021
Following the success of their collaborative KTS Women in Business events, Sue, Tricia and Kirsty will once again unite to deliver an event to support Women in Business in the Cheshire and surrounding region.
The theme for this event will be wellbeing and involves several topics
Women in business will be offered an event that is fun and supportive and which promises connections and learning.
PROGRAMME (subject to adjustment):
11.30 – Arrival, Stalls & Open Networking
12.15 – Welcome and Introductions from the event hosts & partners
12.25 – Speaker programme
13.00 – Lunch
14.00 – Speaker programme continues
14.40 – Raffle, thanks and close of structured programme
15.00 – Event close
SPEAKERS
Andrea Newton – Achievement by Design – Workplace Wellbeing
Emma Wilson Dart – My Time to Change – Physical Wellbeing
Dr Joanne McCormack – Fat is my friend – Nutritional Wellbeing
Emma Guy – The Menopausal Godmother – Menopausal Wellbeing
Toni Mackenzie – Inner Depths Hypnotherapy & Mindset Coaching
TICKETS
Networking, Lunch & Speakers – £36
Refund policy – Refunds up to 7 days
before event
STALLS
£20 (please contact us to enquire)
SPONSORS
Event sponsorship is £50 and includes your ticket plus table hosting and promotional opportunities at the event (please contact us to enquire)
NOTES:
CHARITY RAFFLE: Details will be shared during the event so please have cash or a payment card to hand if you'd like to buy a ticket. Tickets are £5.
This event will be run in-person. In the event of having to cancel the in-person event, we will run virtually on Zoom and offer attendees the option to cancel for a full refund or attend online with a credit for the reduced event content.
Pre-booking only
Ladies only please. No sector or geographical restrictions. No limit per company
EVENT ORGANISERS:
KTS Women in Business is a collaborative project between three of the most renowned networking event organisers in the North West, who have been referred to in the regional press and by attendees as the 'Queens of Networking', the 'Three Amigo's' and the 'Backbone of Networking' in Cheshire and Manchester.
Kirsty James, Tricia Peters and Sue France (KTS) each run their own networking groups comprising over 30 years of experience organising business and networking events. Between them, they have helped hundreds of people to connect and grow their businesses and they are responsible for thousands of pounds worth of business in the region. They do this by facilitating the right introductions and also by providing events, workshops and seminars to increase the knowledge of their attendees.
Although each of the ladies has their own unique brand and their individual style of bringing people together, their core message is the same. They know that, although social media is a fantastic tool for business development, nothing beats direct communication via events and building up a business relationship gradually.
Colony Networking (Kirsty James)
Cheshire Business Events (Tricia Peters)
Creative Connecting in Cheshire (Sue France)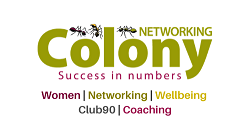 Cheshire Business Events (Tricia Peters)

Creative Connecting in Cheshire (Sue France)